as of 2-01-17 **President William H Taft is putting new engagements on hold**
---
In the entire history of our great country, only one man, William Howard Taft, has served as both President and later as Chief Justice of the United States Supreme Court. His path to these two positions winds through five decades and across many continents.
Taft was a man who truly believed in the integrity of the legal system and who fought valiantly throughout his career to defend and uphold the laws of our land.
Dale Liikala, portraying William Howard Taft, draws you into the world of this giant of a man, and one of Ohio's native sons.
Learn how young Will's upbringing high on a hill overlooking the Ohio River at Cincinnati helped shape the future leader's beliefs and work ethic.

Travel with Mr. Taft and his family as he champions democracy in the newly acquired Philippine territory. Discover why William Howard Taft is often referred to by historians as "Our reluctant President."
A 40-year veteran of community theater, Dale Liikala brings an artistic touch to his portrayal of William Howard Taft, engaging audiences in his thought-provoking and, at times, humorous narrative. Dale and Mr. Taft share numerous commonalities, most notable of which is a close match in physical stature.
The story of William Howard Taft's life may be geared to all ages and time limitations according to your particular group's needs.
On Tuesday, November 15, 2011 Dale Liikala was in Hodgenville, Ky
to deliver the
keynote address at the Abraham Lincoln Birthplace National Historic Park.
He gave the president's speech from the dedication
100 years ago.
To read the newpaper articles and background concerning this rededication ceremony please click.
---
January 5-7, 2012 Mr. Liikala was brought to Las Cruces, New Mexico by one of The Centennial Celebration groups to participate in
"An event to commemorate the 100th anniversary of New Mexico statehood, including the presenting of the New Mexico flag, singing of the state song (O Fair New Mexico), and a re-enactment of the statehood proclamation ceremony – exactly 100 years to the minute after President Taft signed the document in Washington, D.C. (11:35am Mountain Time)"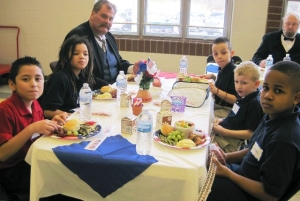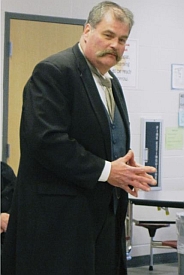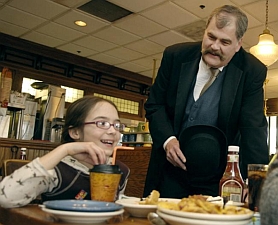 President Taft eats lunch with some of the students Taft tells his "bathtub" story