Living historians honor the Presidents and First Ladies with We Made History
Published: Cleveland

Plain Dealer

, Sunday, July 31, 2011, 5:00 AM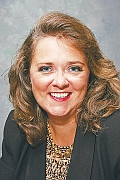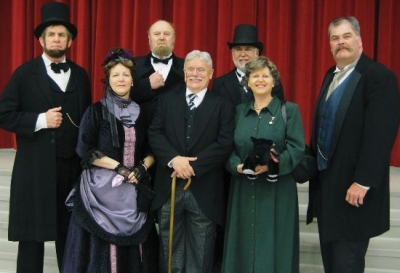 By Linda Chojnacki
A group of seven dynamic individuals have brought history alive with "We Made History: Presidential Living Historians." The troupe includes Ed Haney as President James A. Garfield, Debbie Weinkamer as Mrs. Garfield, Bob Hodder as President Theodore Roosevelt, Linda Laronge as Eleanor Roosevelt, Don Miller as President Ulysses S. Grant, John King as President Abraham Lincoln, and Dale Liikala as President Howard Taft.
What is "We Made History: Presidential Living Historians?"
Ed Haney: The purpose of the group is to educate and entertain people of all ages about our Presidents and First Ladies. We realize that people know a lot about us, but we bring out a lot of interesting information that they may not know. Some is humorous and some is tragic.
Why was the troupe founded?
Ed: I started it as an individual and have been doing President Garfield for about 10 years. Debbie and I both worked at Lawnfield, Garfield's home in Mentor. Many times people would say, "Where's Mrs. Garfield?" and I didn't have one. I would make excuses, saying that she was visiting her sick sister and so on. One day I asked Debbie to take on the role because she was such a good researcher and had great knowledge of the Garfield history. She was a little reluctant at first but accepted.
Debbie and I teamed up to do "A Portrait of a 19th Century Marriage." We also began doing "Letters from the Front." We would read actual letters that President and Mrs. Garfield wrote back and forth during the Civil War.
We then started talking to Bob Hodder and said, "You know you look like Teddy? Why don't you do Teddy?" He accepted the invitation. We were at breakfast one day and Linda was with us. We talked Linda into doing Eleanor Roosevelt. That's what formed the nucleus of the group. John King then joined the group as President Abraham Lincoln, Dale Liikala joined as President William Howard Taft, and Don Miller joined as President Ulysses S. Grant.
Where do you go?
Ed: We go to schools, Civil War roundtables, church groups, women's and men's groups, libraries, historical societies, community events, dedications, and more. We also do programs where they just want us to stroll and be in Presidential or First Lady character. We are available for any event that needs a Presidential character.
Linda Laronge: When we do a stroll, we focus on events that took place during that particular time period. We never lose character, no matter if it's a youth or adult audience. I walk in as Eleanor Roosevelt and don't become Linda until I leave.
Debbie Weinkamer: We become these people from our costumes to our speech and our programs. We know such a wide range of material to authentically become each President and First Lady.
What do you do?
Debbie: Normally we provide about a 40-minute program on a specific topic and we take questions and answers.
Linda: We normally ask the contact person for the event if there is a specific topic that they want us to talk about. For example, I did a program at Lakeland Community College and they wanted a presentation on civil rights.
Have you each researched your character?
Linda: We've all done a thorough background review of our characters, but we also do additional research based on what the organization wants in terms of a presentation.
Are your costumes authentic?
Debbie: We try to make them as historically accurate as possible.
Ed: A local woman, Caitlin Sandham, specializes in historical costuming and has created some of our attire.
Bob Hodder: We've also had custom hair pieces made to ensure authenticity.
How do I book a President or First Lady for an event?
Debbie: We are all individual contractors, so people can contact us by email or phone. We obtain information on the function, and then talk to the individual about some potential programs that we can offer. Each individual character has a page on the "We Made History" website that includes individual contact information.
Linda: We are also on the National Registry of Living Historians.
www.wemadehistory.com
(440) 257-1255