Bob's longtime interest in Theodore Roosevelt, whom he felt was America's most fascinating president, culminated in his portrayal of the 26th president. A high school teacher for 35 years, Bob found it effective to teach social studies by having his students simulate historical people and events. He continued this genre himself by delivering entertaining and educational first person programs as Theodore Roosevelt.
In addition to his teaching, Bob served as an Interpreter/Educator at the James A. Garfield National Historic Site and as a Supervisor of Student Teachers at Cleveland State University. He presented his programs at various venues such as the Euclid Public Library, elementary and secondary schools, churches, historical societies, civic groups AARP meetings and nursing homes. He also presented programs via videoconferences nationwide.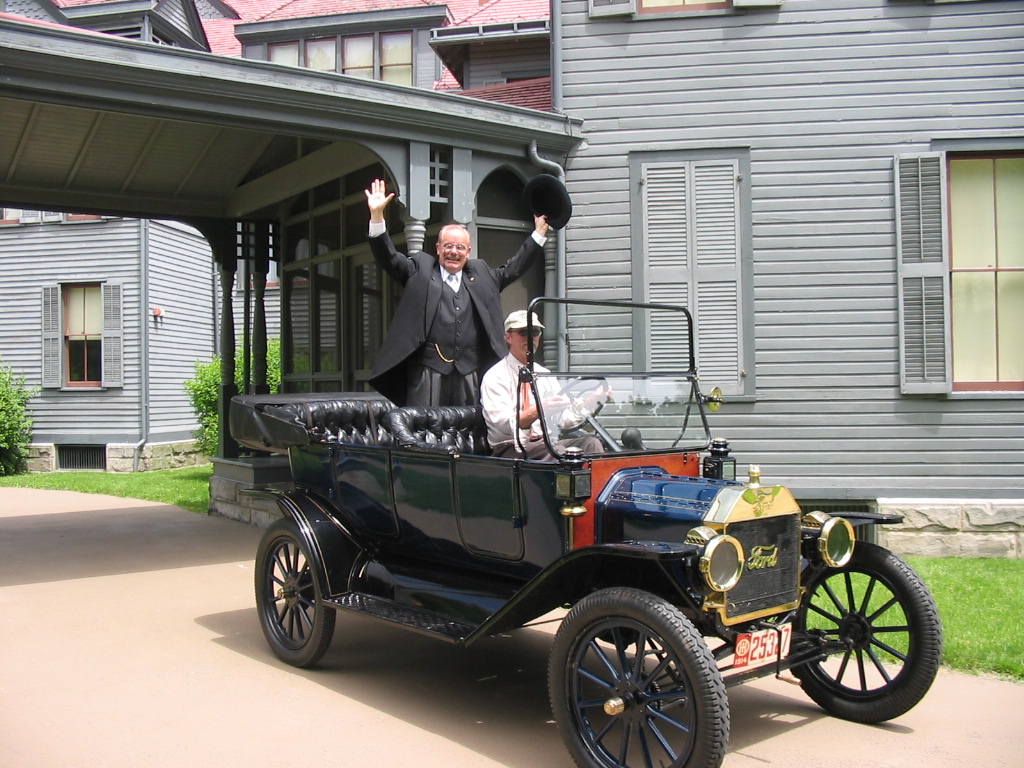 Photo taken at Lawnfield Farm Days, May 2004
---
What people said about Bob...
By Brenda Stultz, Volunteer Curator of the Clyde ( OH ) and the McPherson House.
" I know you greeted more than 125 on Saturday and your friendly handshakes, your contagious smile, and your professional expertise helped make our event a super success."
James R. Garfield II (grandson of James R. Garfield, Theodore Roosevelt's good friend and Secretary of the Interior) said "Bob Hodder is exactly what my grandfather said his good friend Theodore Roosevelt was like."
"He (Bob Hodder) is Theodore Roosevelt," was a comment made after an appearance three years ago.
About Bob Hodder, Allison Sharaba, Operations Manager of the James A. Garfield National Historic Site stated, "Both adults and children are engaged when (Bob Hodder's) Theodore starts talking. It has been our pleasure to have him visit our site."
About his portrayal of Theodore Roosevelt, Bob Hodder says, "I love being TR. He is such a character that I don't even know all that will occur during a program—anything goes!"
| | |
| --- | --- |
| | TR shows his glasses during a lunch period at Maple Elementary School, Painesville, Ohio during a Feb. 2011 Presidential visit |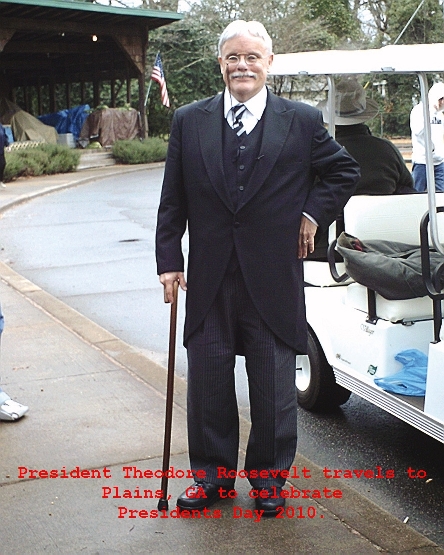 On February 15, 2010, Bob was invited by The Jimmy Carter National Historic Site in Plains, GA, to make a presentation in the auditorium of Plains High School about Roosevelt's life, campaign and presidency. "The National Park Service requested his services for Presidents' Day because Roosevelt was the first president to win a Nobel Peace Prize for delegating a treaty between Japan and Russia, thereby ending the war between the countries. Roosevelt is important to Plains because President Jimmy Carter lives in the town, and was the second president to win the prize for, among numerous other missions, helping to bring peace between Israel and Egypt." (Carly Farrell ,The Americus Times-Recorder.)
---
Here is an article released about Hodder's recent visit to the Wickliffe Library on April 10, 2012 found on www.cleveland.com. site.
http://www.cleveland.com/wickliffe/index.ssf/2012/04/theodore_roosevelt_visits_wick.html